All the 

information 

of your event in the hand of your participants

Integrates all modules

 of the software avoiding hiring other suppliers for each parcel of the event.

It 

facilitates the interaction

 of participants through 

real and structured networking

. During the event, the participants can ask for meetings to other participants and can also evaluate the meetings performed. It offers a 

messaging system

 for 

active communication

 between participants if they do not have organized and structured Networking.

Versatility and customization

 by giving answer to the organizer needs and by adapting the app to your corporate image.

Agile and simple

. All information included in the software becomes automatically in the app without having to do anything else.
Create the app of your event in 4 easy steps:
Customize

 the color and image of the app

Select the 

menus

 that are available from the app or create new menus

Enter the necessary 

information

 (speakers, program , venue ... )

Published

 with one click and enjoy your app!
App 

customizable

 to the image of the organizer

Available in Apple store and Google Play

Integrates

 all modules of our software (registration, emailings, accreditation, networking, billing ...)

Provides the following sections:

General information

 of the event.

List of 

participants
Exhibitors

 list

Event 

program
Speakers
Networking

: The participant can make 

real and structured networking

 during the event and can also evaluate the meetings.

Messaging system

. Through which participants can communicate with each other

Specific 

participant information

. Participants will have access to specific information related to their participation in the event:

Event pass (barcode / QR)

Documentation

Download invoices and / or airline tickets

Customized agenda

Real time 

surveys

 and voting system.

Others.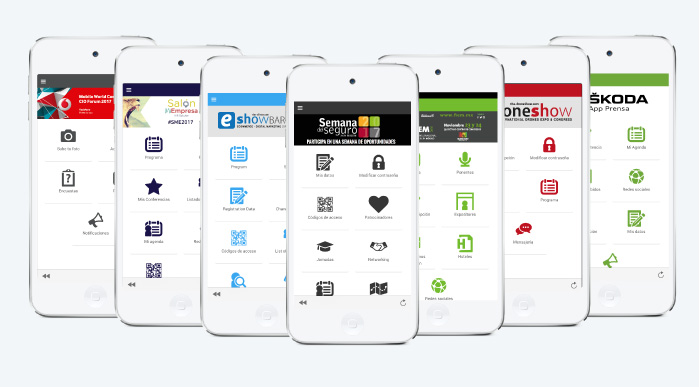 The information of your event in the hands of your participants