Create your website in less than an hour.
Simple and intuitive interface.
No need to be a programmer or web designer to create your web.
It can be adapted perfectly to your organisation's corporate colours.
Access 24 hours a day, 365 days a year.
Create your website in six easy steps:
Choose the structure that best suits your needs from the various templates that we offer.
Add your logo and images and choose the colours for the different sections of the website, menu buttons, submenus, text colour, background colour of the web, and so on.
Create as many main menus as you need.
Create as many sub-menus as you need.
Add content to the various sections (you can include images, tables, videos, links etc.).
Upload it with one click and enjoy your site!
You can build multimedia content into your web: photo galleries, videos, document gallery, streaming screen etc. You can embed the social networks to which you subscribe, upload banners... and, last but not least, you will know the number of hits your website is getting, including your Google Analytics code.
100% customisable.
Web content editor like a text editor (Microsoft Word style).
Multi-language.
Unlimited content creation.
Banner creation.
Link to your social networks and social networking plug-ins.
Multimedia content:

Image Gallery
Video Gallery
Document Gallery
Streaming

Link to Google Analytics.
Public or restricted web access (login and password).
Inclusion of keywords for search engine optimisation.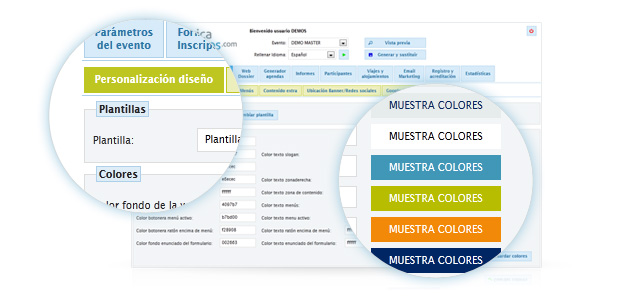 Create your event website easily without any programming knowledge