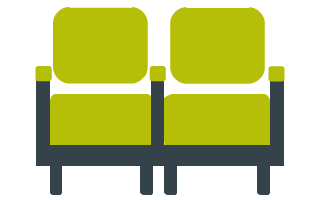 The solution to your guests seating.
Versatile, simple and effective. If you need to assign seats in your event, respect a protocol or sit together people from the same institution or department, we have the solution to make you save a lot of time and avoid human errors.
Easy to use: You can design your event plan and and assign seats to your guest easily by drag & drop.
Versatile: It adapts to many spaces plans without having to make a specific sofware or web site for your event ticketing or seat assignment.
Saves time and resources: If you assign seats manually, you will make a lot of human errors and it will take you a lot of time that would be used to do other issues.
Warranty: of working with a proven system backed by the most complete and powerful event software on the market.
Centralized: you will not have to hire other suppliers, all solutions are centralized in the same place and linked with the other modules offered by TuFabricaDeventos.com.
Our seating module will allow you to: Nuestro módulo de Seating te permitirá:
Design the plan and different areas with the necessary seats.

Assign seats to your guests manually by drag and drop and according to the needed.

Use aleatory seating for specific areas or types of

participants

.

Assign seats by participant type.

Reserve VIP seats, camera shots or other needs.

Assign contiguous seats to related participants.

Email the event pass with the assigned seat.

Guide your guests to its seat the day of the event as it is integrated to the accreditation module.

Save time, avoid human errors and work with guarantees.
Optimize your time and resources and assign seats to your attendees with the guarantee of the most powerful and complete software of the events sector.